Key Facts About Us

Students: 145
Years established: 95
Faculty: 15
Student to teacher ratio: 10:1
A Note from principal tran
This week I struggled to decide what to write to you all about not because I had too few ideas but because I had too many! We have had some great things happening in our school and community, so I'm going to rattle off a few. After students went home in the early afternoon on last Friday, teachers met for a faculty meeting where they led the way in a group discussion about various areas of teaching, planning, classroom management, and professional development. Every single teacher was whole-heartedly participating in a fruitful discussion! Although I wasn't present to see what happened, I have heard wonderful stories about the love and support shown at last weekend's Cross Country meet. It takes guts to run for an extended amount of time with an audience, and I'm so glad that each runner had enough support to finish with confidence. And the last act of service I want to mention is the number of students (or maybe parents?) putting themselves out there to sell raffle tickets. I've been told that we have never run out of tickets to sell, and we did that by a heavy margin this year! We have fifty more ticket books coming tomorrow, and I'm hoping that's enough for our proactive sellers. Thank you all for your support as we lead up to Fest Quest this weekend!
Fr. kovar visits Kindergarten!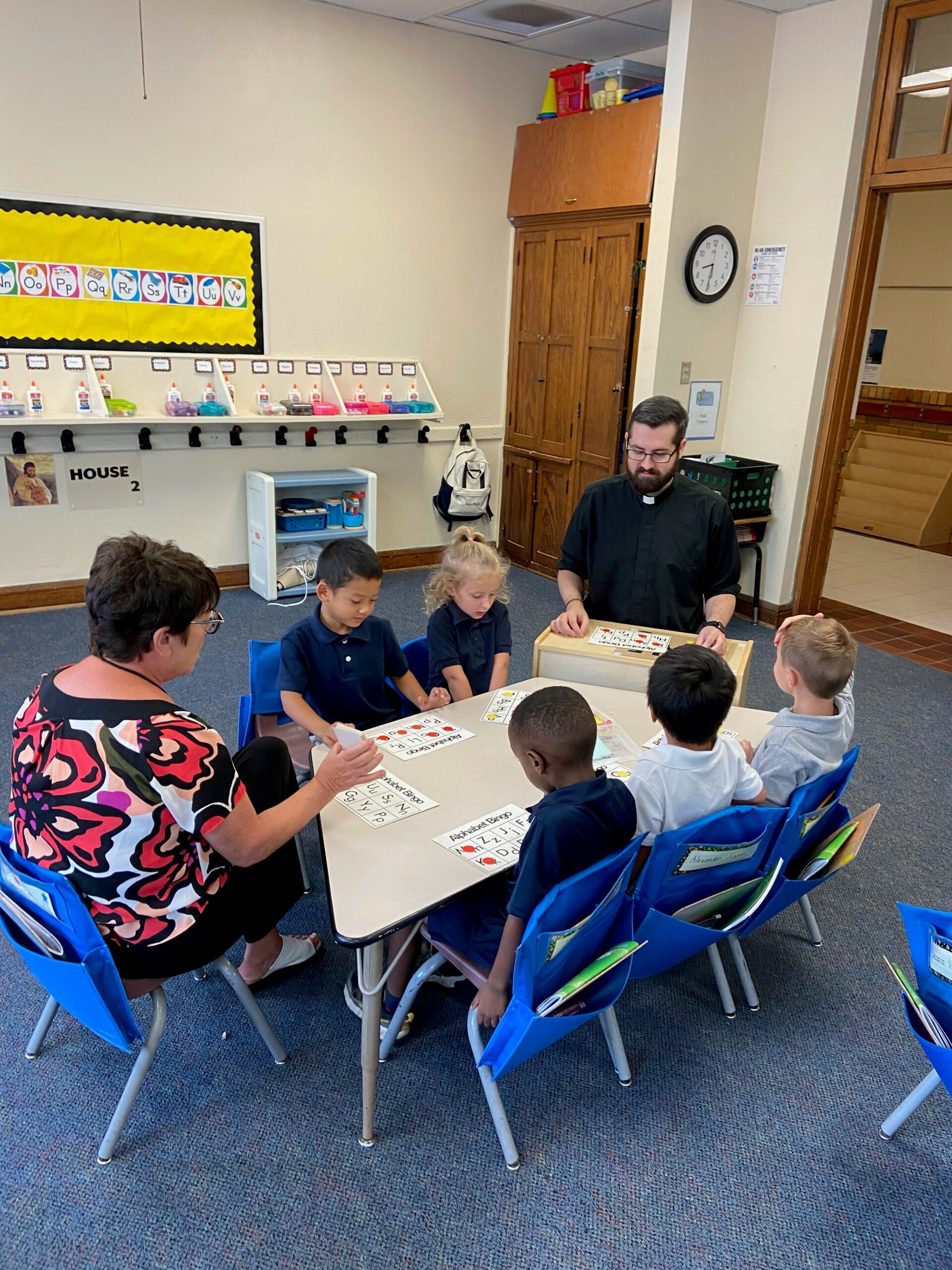 Mission
In the climate of the Gospel values, we strive to provide academic excellence as we serve as a school community and proclaim the good news of Jesus Christ.
Motto
To Know, Love and Serve God
Please donate mini individually wrapped candy and Homeroom basket money/items per teacher request if you are able. Fest Quest will be September 24-25 this year. The online auction opens on September 19!
Don't forget to order your uniform sweatshirts before 8am on Friday, 8/26. https://stores.inksoft.com/blessed_sacrament/shop/home